Christmas Cookie Countdown 2013
By:
Danielle Zimmerman, editor for TheBestDessertRecipes.com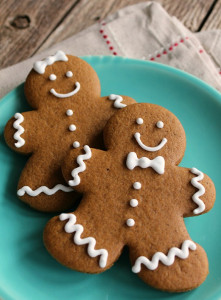 Christmas time is (almost) here, which means it's time for Christmas Cookie Countdown 2013! Every day from now until Christmas, we'll be counting down our favorite Christmas cookie recipes in hopes that they'll someday become some of your favorites too! From peppermint cookies to traditional Christmas cookies like spritz cookies, we'll be featuring one delicious treat every day. After all, what's Christmas without an abundance of Christmas cookies? These Christmas cookies are sure to make your holidays brighter.
You definitely won't want to miss a single one of these Christmas cookie recipes. Sign up for our free newsletter, The Dessert Dish, to keep updated on our cookie countdown and to see every single one of our delightful featured cookies!
Without further ado, enjoy our Christmas Cookie Countdown 2013!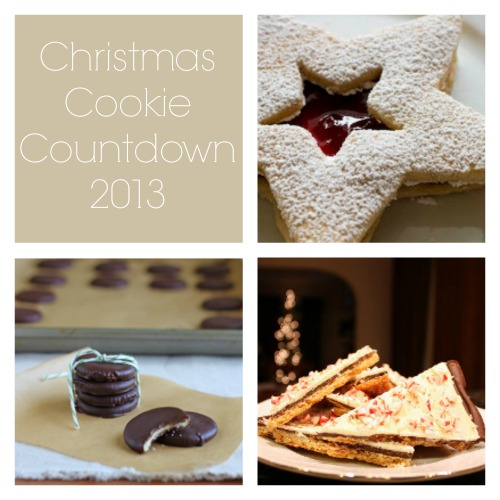 ---
In the mood for something different? Try our 9 favorite Christmas cakes!
---
#27: Vintage Pecan Tassies - It's not Christmas with out a platter of Vintage Pecan Tassies on the table. The best Christmas cookie recipes incorporate some of the most popular flavors of the season and this pecan tassie recipe is no different. Brown sugar and pecans combine to create a comforting holiday flavor that will make you just want to curl up by your fireplace. So, this holiday season, whip up a batch of pecan tassies and watch your relatives make them disappear.
#26: Andes Pinwheel Cookies -- Chocolate dough and minty dough swirls together to create Andes Pinwheel Cookies. You will love the flavors in this tasty cookie recipe so much that you may find yourself craving these treats on a daily basis. Mint extract dominates the green mint swirl while Andes chips are peppered throughout the chocolate part of each cookie. Because of their minty flavor, these Andes cookies are an ideal addition to your list of St. Patrick's Day or Christmas dessert recipes. Whip up a batch and see how fast they fly off of your platter.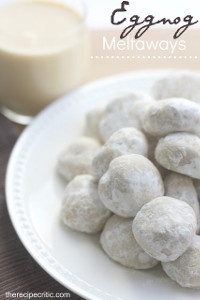 #25: Eggnog Meltaways (pictured left) - You can never add too much eggnog to too many foods during the Holiday season. Eggnog Meltaways make for a great Christmas dessert recipe simply because they're easy to make and include one of the greatest Christmas flavors. With just seven simple ingredients, this recipe honestly couldn't be easier. Just prepare and bake the dough, and then roll the balls in powdered sugar after they come out of the oven. These cookies live up to their name because, as soon as you pop them into your mouth, they melt on your tongue.
#24: Peppermint Mocha Blossoms - This holiday season, you won't whip up a Christmas cookie recipe that is as simple as Peppermint Mocha Blossoms. Instant espresso power and cocoa powder perfectly flavor the cookie dough and give it that beautiful light brown color. Each cookie then gets a creamy candy cane-flavored Hershey's Kiss stuck right in the center of it. The chocolate coffee cookie and the peppermint candy's flavors create such a tantalizing taste that, after just one bite, your mouth will be watering for more.
#23: Retro Fruitcake Cookies - Retro Fruitcake Cookies taste just like the ones your grandmother (or great-grandmother) used to make. Candied fruit and warm spices make this Christmas cookie recipe fit for your cookie platter or dessert table. Unlike other recipes for cookies, these are great to make for when you're expecting a crowd. The original recipe made 120 cookies but this one cut that in half to make it more manageable. However, if you're having a party, you can always just double the ingredients.
#22: Best Ever Gingerbread Cookies (pictured at top) - When you're making your Christmas cookie recipes list (and checking it twice), make sure that Best Ever Gingerbread Cookies are on there. They're easy Christmas cookies to make and will make your house smell absolutely heavenly. After you've made and chilled the dough, pull out all of your favorite Christmas cookie cutters, including the one for the gingerbread man and go to town. You can also let your kids help you cut out and then decorate the cookies after they come out of the oven.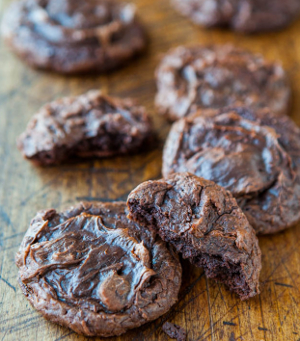 #21: Chewy Brownie Cookies (pictured right)- It is extremely difficult to differentiate between the cookie and the brownie in these Chewy Brownie Cookies. However, it doesn't matter, because in the end, all that matters is the incredible taste. Let the chocolatey goodness run all over your taste buds and let all of your stress melt away.... just like these chocolate brownie cookies melt in your mouth. Enjoy a chewy fudgy center with a crispier, chocolate filled crust in this brownie / cookie hybrid.
#20: Four Ingredient Thin Mints - Imagine, swirls of decadent chocolate and fresh mint together in a heavenly dessert recipe. Are you dreaming? No, you're just thinking of this easy Girl Scout Cookie-inspired wonder, Four Ingredient Thin Mints. Delight all of your guest by baking up a sweet sheet of this fabulous dessert and everyone will thank you. You don't even need to order Thin Mints in order to make these cookies. You only need a handful of ingredients to make this easy dessert recipe.
#19: Peppermint Pinwheel Cookie Pies - Peppermint Pinwheel Cookie Pies are quite possibly the most festive cookies you'll see this holiday season. Your family is sure to deem the peppermint pinwheel the best Christmas cookie recipe they've ever tried. Red and white-swirled soft cookies sandwich a minty cream cheese filling. Amazingly, the cookies only need about six minutes in the oven until they're baked to perfection. Even better, you can make the dough up to a month before you need to bake them, so you won't have to worry about having to make all of your Christmas cookies at once.
#18: Gluten-Free Linzer Cookies - Buttery shortbread-like dough, sweet jam, and powdered sugar come together to create Gluten Free Linzer Cookies, one of the best recipes for cookies you'll ever try. Making a traditional Linzer cookie recipe gluten free is not a difficult process at all. The substitutions work well together to give you a dough that's just as soft and buttery as normal. You can choose whatever flavor jam you'd like to put on these cookies because, honestly, you can't go wrong with whatever flavor you choose.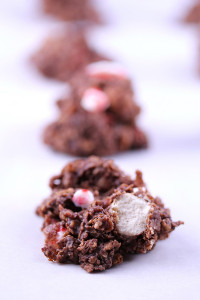 #17: Peppermint Whopper No Bake Cookies (pictured left) - When it comes to desserts, no bake cookie recipes are quite possibly the easiest treats you could ever make. Peppermint Whopper No Bake Cookies are no exception. Three different types of chocolate, including Whopper candies, make each bite incredibly flavorful. The refreshing peppermint flavor goes well with the chocolate and keeps it from tasting overly rich. These chocolate cookies are so good that you won't believe they only require four steps of preparation. Their flavor combination make them the perfect holiday treat.
#16: Italian Waffle Cookies - Italian Waffle Cookies, also known as pizzelles, are traditional and popular Italian dessert cookies. They're slightly crunchy waffle-like cookies that you make in special (and inexpensive) pizelle irons. Light and flavorful, these Italian cookies are perfect for large get-togethers and holidays, such as Christmas and Easter. Best of all, they can be easily stored in cookie tins. Don't worry about their shelf life though, because these are sure to be eaten before they even begin to get stale.
#15: Red and Green Holly Doodles - If you're a fan of snickerdoodles, you will definitely want to make some Red and Green Holly Doodles for Christmas this year. They'll be one of the easiest Christmas cookie recipes on your list. All you have to do is make the dough, form it into balls, and then roll it in colored sugar before baking. There are few cookie recipes that are simpler than that. Once they come out of the oven, they will look almost as good as they will smell.
#14: Pie Crust Cookies - The best part about any pie is the crust itself. It doesn't matter what the filling is, as long as the crust is buttery, flaky, and golden brown, the pie will be amazing. Instead of baking an entire pie just to get that taste of the crust, make these Pie Crust Cookies instead. Plus, these cookies are magical. You place a batch down on the desert table, and, POOF!, they disappear.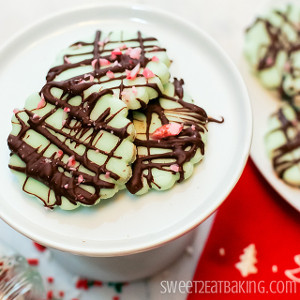 #13: Monster Cookie Overload - Monster cookies are normally very intense and packed with delicious goodness, and this easy cookie recipe takes monster cookies to the extreme. By adding a Hershey's Kiss on top of the sweet treat, this Monster Cookie Overload became one of the best dessert recipes of all time. It does not matter whether it is the holiday season or you just need a midday snack, enjoy these miniature delights at your leisure. Eating these cookies will instantly bring a smile to your face!
#12: Candy Cane Chocolate Peppermint Creams (shown right) - Get in the holiday spirit with Candy Cane Chocolate Peppermint Creams. This delightful Christmas cookie recipe has a crunchy outer layer with a soft and creamy inner layer. Crushed candy canes not only sit atop the cookie but also swim in the creamy cookie centers. The drizzled chocolate is truly the icing on the cookie because it tones down and balances the cookies' otherwise minty flavor. You'll love how festive these green and red treats will make your Christmas cookie platter look.
#11: Unforgettable White Chocolate Cranberry Cookies - White chocolate chips and dried cranberries make for a flavor match made in heaven in these Unforgettable White Chocolate Cranberry Cookies. You'll love this easy cookie recipe because it makes such soft and flavorful cookies. The dough has a slight vanilla flavor that really complements the chocolate and cranberries. These cookies taste great at all times of the year, but they'll be especially tasty and festive during the holiday season. They're so good, you won't be able to have just one.
#10: Candy Cane Oreo Cheesecake Cookies - You won't be able to stop yourself from eating more than one of these Candy Cane Oreo Cheesecake Cookies. Cheesecake cookie recipes are great because they're light and fluffy but still pack a lot of flavor. Candy cane Oreos (or Joe Joe's) add a bit of peppermint extract add extra flavor depth to an already sweet dough and make the cookies perfect for your Christmas or New Year's Eve dessert table. Make sure to have a few extra copies of this recipe on hand because your friends will all be asking for it.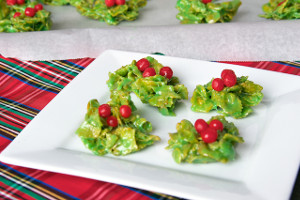 #9: Holiday Holly Cookies (shown left) - Have a holly jolly Christmas with a batch of Holiday Holly Cookies. They are easy Christmas cookies that instantly make your dessert table or platter as festive as can be. The best part about these cookies is that you don't even have to bake them. In fact, they are similar in taste, texture, and creation to a gooey Rice Krispie treat. So, while you're busy slaving away over the oven trying to make your list of traditional Christmas cookie recipes, you can be sure that these won't take much of your time at all.
#8: Criss-Cross Cookies - You won't be able to get enough of these wonderfully buttery Criss-Cross Cookies, especially since they're made with such an impossibly easy cookie recipe. With just four simple ingredients that you most likely already have in your kitchen, you can make a batch of these tasty treats in less than an hour. Their criss-cross design gives them a pleasing appearance and helps keep the sprinkles on them from sliding off. These cookies are perfect for every occasion, from birthdays to Christmas, so you have no excuse not to make them.
#7: Magic Layered Christmas Bars - These Magic Layered Christmas Bars are what happen when you make a traditional seven layer dessert bar recipe into a festive holiday dessert recipe. The bars are magic in that it's unbelievable how many wonderful flavors can be packed into one small dessert bar. Christmas-friendly ingredients like holiday chocolate morsels, holiday M&Ms, and cocoa make the bars super sweet and perfectly suited for your Christmas desserts table. Serve these chocolate treats warm in order to taste them when they're at their very best.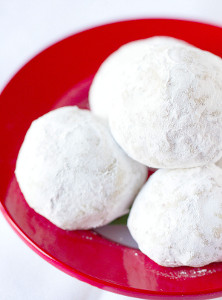 #6: North Pole Snowball Cookies (shown right) - This year, make sure that these North Pole Snowball Cookies are on your Christmas desserts table or platter. Believe it or not, but this popular Christmas cookie recipe packs bunch of flavor and texture into one little sugar-covered treat. The cookie is made of a shortbread-like dough and a generous amount of finely chopped pecans. After they're done baking and they've had time to cool, you toss them in powdered sugar. You don't even need to coat them with butter or anything before you toss them in sugar. The powdered sugar will completely cover them and stick.
#5: Chewy Molasses Cookies - One bite of Chewy Molasses Cookies and you'll feel warmth spread from your head to your toes. This is one molasses cookie recipe that you're going to want to keep in your recipe box and make over and over again. They're soft and chewy, just like you'd hoped they would be. Even though they'd taste wonderful all year round and for all occasions, because of their flavor, they make for an especially excellent Christmas cookie recipe.
#4: Bakeless Cookie Butter Cookies - Forget peanut butter. Biscoff, also known as cookie butter, is where it's at. Bakeless Cookie Butter Cookies are one of the best no bake cookie recipes you'll ever come across because each cookie is just so sweet and flavorful. Because cookie butter is made using ground cookies, these cookies couldn't be anything but delicious. They're so easy to put together and even easier to eat in one sitting. These treats will soon become your favorite no bake cookies.
#3: Classic Christmas Spritz Cookies - Indulge in a little bit of holiday nostalgia with Classic Christmas Spritz Cookies. This is one of those Christmas cookie recipes that you will want to pass down to your children. You make these sweet, buttery cookies with a cookie press and holiday-themed cookie press disks. While these cookies are versatile and can be made year round, there's just something about enjoying a spritz cookie with a cold glass of milk during the holiday season.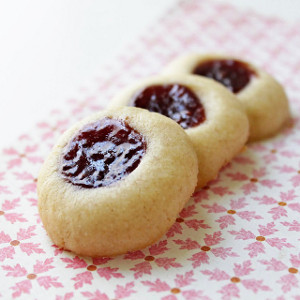 #2: Peppermint Bark Shortbread Cookies - If you can't decide whether you want to make peppermint bark or peppermint shortbread cookies, why not make both? This recipe for Peppermint Bark Shortbread Cookies makes for an easy Christmas cookie recipe that everyone will love. You first make the buttery shortbread base, bake it, and allow it to cool. Once it's ready, you pour the candy cane bark mixture on top and let it set. That's all there is to it. Cut the tray into triangles and share it with all of your family and friends.
#1: Family Favorite Raspberry Thumbprints (shown left) - Family Favorite Raspberry Thumbprints taste so delicious that they're sure to become popular with your family members. Like a shortbread cookie, this thumbprint cookie recipe makes simple buttery cookies that melt in your mouth. The raspberry preserves add a bit of extra flavor and texture to these already mouth-watering treats. Thumbprint cookies are especially popular with families around the holidays, so definitely consider adding these to your list of Christmas cookie recipes to make this year.
---
Want more Christmas cookies? Check out our printable recipe collection!
---
Free recipes, giveaways, exclusive partner offers, and more straight to your inbox!
Tags / Related Topics
Your Recently Viewed Recipes
Images from other cooks


Something worth saving?
SAVE all your favorite recipes
ADD personal notes
QUICKLY reference your recipes