Kitchen Hacks: How to Melt Chocolate
From microwaves to double boilers, with these tips and tricks, you'll become a master melter in no time!
By:
Emily Artinian, Editor, TheBestDessertRecipes.com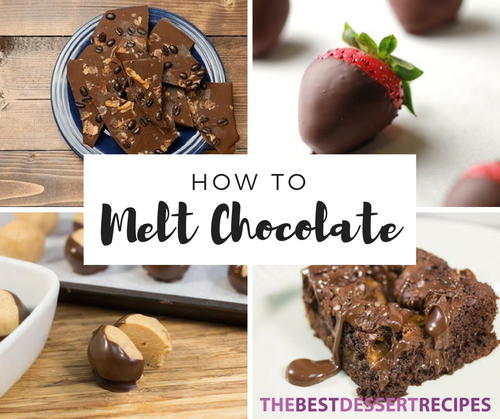 Calling all Chocoholics! Do you love chocolate? To the point where it doesn't matter if it is chocolate frosting, chocolate chip cookies, chocolate cupcakes, or even chocolate drinks - you'd do anything to get your hands on it right? Don't worry, some of us are like that too! 

What makes easy dessert recipes even sweeter is a dip or a drizzle of melted chocolate on top! Here, you will be able to learn how to melt chocolate chips, chocolate chunks, or chocolate shavings in a few simple steps.

Learning how to melt chocolate isn't so complicated, which is nice for anyone who is new to the baking game. Drizzling a little bit of chocolate over your freshly baked sugar cookies or dipping your cookie dough balls into a bowl of melted chocolate is the ultimate way to take your desserts to an entirely new level. 

Here are two easy methods that are too easy to not try! If you have any fun or useful tips and tricks for melting chocolate, leave them in the comments section below!
How to Melt Chocolate in the Microwave
When it comes to melting chocolate, the microwave can be your best friend or your worst enemy. It's great for when you need to melt chocolate in a hurry, but if you're not careful, things can go awry.

You should always melt your chocolate in baby steps, when it's in the microwave. Microwave on low and in short increments, stirring in between. This will help prevent your chocolate from burning!

What you need:
1. Microwave safe bowl
2. Wooden spoon
3. Chocolate

How to do it:
1. Pour the desired amount of chocolate into your microwave-safe bowl.

2. On your microwave's lowest setting, heat your chocolate for 30-40 seconds. For really small pieces or flakes of chocolate, only microwave for 15-20 seconds.

3. Remove the bowl from the microwave, and stir slowly with a wooden spoon. Return to the microwave for 10-15 seconds on low.

4. Repeat step 3 until the chocolate is fully melted.

Note: If you're concerned about overheating or burning the chocolate, just add a little bit of vegetable oil, coconut oil, or butter. Adding a little bit of fat to your chocolate helps it stay smooth. Typically, dark chocolate melts better in the microwave than milk chocolate.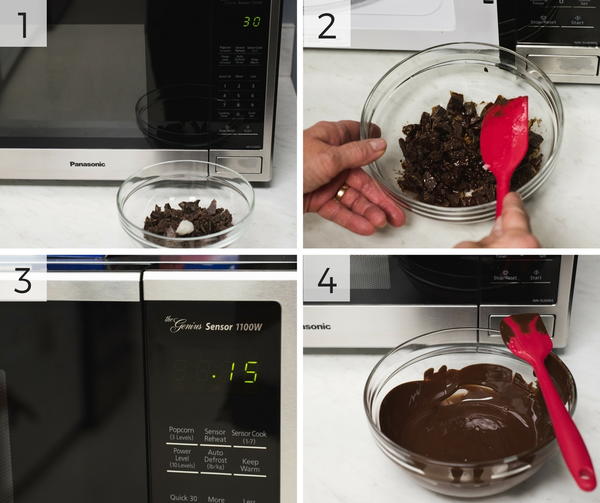 How to Melt Chocolate in a Double Boiler
You might know this method as tempering, and you've probably heard a double boiler referred to as a Bain Marie by professional chefs.

By using a double boiler over the stove, you will be able to melt chocolate easily for your homemade dessert recipes. This whole process should take you about 5 to 10 minutes entirely. This is an easy way to melt chocolate for any fondue recipes or to drizzle over your desserts.

What you need:
1. A pot
2. A glass bowl (wider than the pot)
3. Water
4. Chocolate

How you do it:
1. Fill the pot up with about 1 inch of water and bring to a simmer. It should be lightly steaming

2. Place your glass bowl (or other heatproof bowl) over the mouth of the pot. It is important that the water you have poured into the pot does not touch the bottom of the bowl.

3. Pour your choice of chocolate into the heatproof bowl, little by little.

4. Stir the chocolate often as it softens. This prevents the chocolate from stiffening or burning. Chocolate can easily overheat and lose consistency, so be sure to not leave your chocolate unattended.

5. You can remove your bowl from the heat at as soon as there are little to no pieces of unmelted chocolate. (If you have unmelted chunks, stir them in after removing the bowl from the heat. The residual heat will melt them entirely.)

Note: If you plan to use the tempering method, avoid adding water to the bowl. This will make your melted chocolate grainy and unusable, especially if you plan to use your chocolate for dipping or frosting. If this happens, don't worry; you can hadd a little bit of vegetable oil to try to preserve that consistency of the chocolate.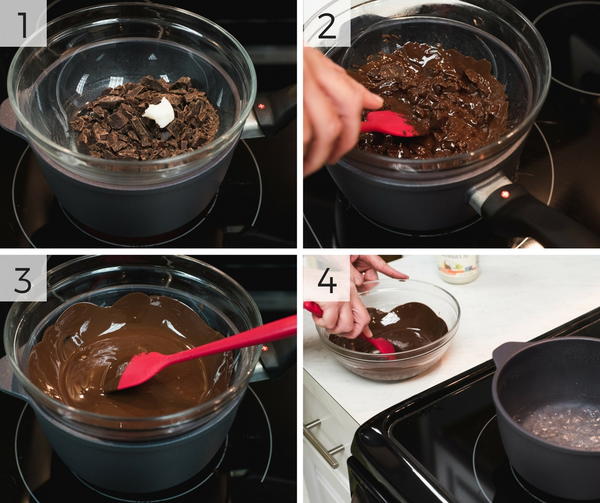 How to Re-Emulsify Chocolate
Sometimes your chocolate will seize up or become lumpy and grainy during the melting process. This can happen in both the microwave and in a Bain Marie. But don't worry! You can fix it.

To re-emulsify chocolate in a Bain Marie:
1. Remove the glass bowl from the heat immediately.
2. Slowly fold fat* to the chocolate. Add this in 1 tablespoon at a time.

To re-emulsify chocolate in the microwave:
1. Remove the bowl from the microwave.
2. Add 1 tablespoon of fat* to your seized chocolate and return to the microwave.
3. Repeat step 2 until melted.

*Vegetable oil, shortening, coconut oil, and butter work well for this. This will not save it completely, and it won't get smooth enough for fondue, but you can still use it to make frosting or drizzle over some cookies!

Note: White chocolate and milk chocolate are more likely to seize up during the melting process, so keep you eyes peeled if you're using these types.
Chocolate Dessert Recipes
Put your chocolate melting knowledge to use! Below are some of our favorite dessert recipes that use melted chocolate to add that rich, creamy flavor we all go crazy for.

Melted chocolate is perfect for decorating homemade sugar cookies, dipping awesome and sweet oreo balls, or looking for ways to sweeten up any of your easy to make desserts.
Free recipes, giveaways, exclusive partner offers, and more straight to your inbox!
Tags / Related Topics
Your Recently Viewed Recipes
Images from other cooks


Something worth saving?
SAVE all your favorite recipes
ADD personal notes
QUICKLY reference your recipes