6 Tips for Making Desserts in the Microwave
The Lazy Baker's Guide to Making Desserts in the Microwave
By:
Toby Kuhnke, Editor, TheBestDessertRecipes.com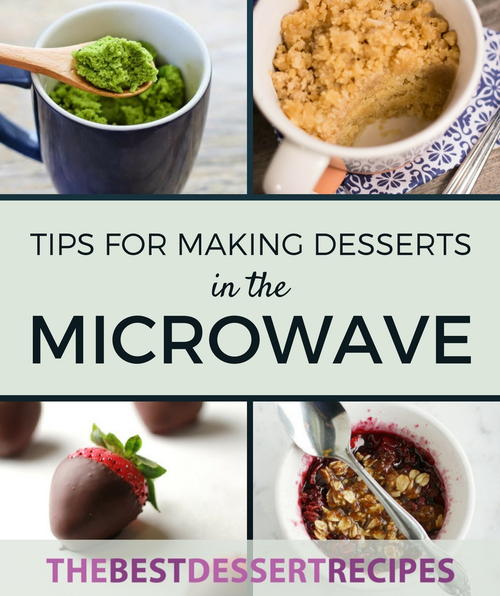 These 6 Tips for Making Desserts in the Microwave are the key to perfecting this new (and super easy) method of baking. We've all had those late-night cravings for something sweet. But who wants to make a complicated dessert late at night?

Microwave desserts, like mug cakes, microwave cobblers, and even chocolate fondue, are the answer to your sweet, sugary prayers!

But making your favorite desserts in the microwave comes with its own set of challenges. Never fear, though. We have gathered these six tips and tricks, including advice from some of our favorite bloggers and chefs, to help you become a master microwave miracle worker.
1. Be Prepared and Know Your Microwave
Mug cakes are probably the easiest microwave desserts to master, but you can't make anything unless you're prepared. Our first tip for making desserts in the microwave is to have this handy infographic shown below. Print it out, and stick it on your fridge, so you have it when you're ready to make that midnight snack.

Click on the image to download the full infographic for step-by-step instructions: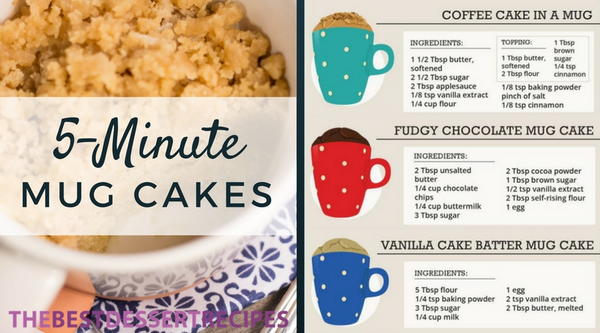 It's important to know what your microwave is capable of. Christina Lane from Dessert for Two gave us this advice about making desserts in the microwave:
2. Avoid Recipes That Call For Eggs In your Mug Cakes
Eggs in the microwave are perfectly safe, but the next time you see a mug cake recipe that includes an egg, you should be a little suspicious. Eggs usually leave you with a dense, soggy cake when they're included in mug cake recipes.

That said, your mug cakes will still need something to keep them nice and moist, so you don't end up with something that's too dry. Throw in some caramel or a peanut butter filling to turn your mug cake into a lava cake that's simply divine! This easy mug cake recipe below uses lemon-lime soda to give it that soft, velvety texture:
3. Use Caution When Melting Chocolate in the Microwave
Most bakers roll their eyes at the thought of melting chocolate via the tempering or Bain Marie methods. And rightfully so, especially when you can totally do it in the microwave in no time at all. But there are ways it can go wrong. Here's one blogger's advice on how to prevent this microwave mishap:
"Using the microwave is a quick and easy way to melt chocolate, but it's also a quick and easy way to burn chocolate! Since you can't really watch the chocolate melt in the microwave (compared to using a stovetop), it's important to go low and slow. Use a lower power setting on the microwave, and melt the chocolate in short intervals. (I use 15-second intervals.) Stir the chocolate after each interval so the chocolate melts evenly. Microwaves cook/melt from the inside out, so stirring is a very important step for even melting! Make sure to keep the bowl and the stirring utensil completely dry or else the chocolate and seize up and become lumpy. If the chocolate does seize up, you can stir in a small amount of vegetable oil to help smooth it back out, though"

-David Dial from spicedblog.com
Melted chocolate is perfect for dipping strawberries! This is an easy way to make a dessert in a hurry that's also a real crowd pleaser. Give this recipe for Chocolate Covered Strawberries below a try the next time you have company over!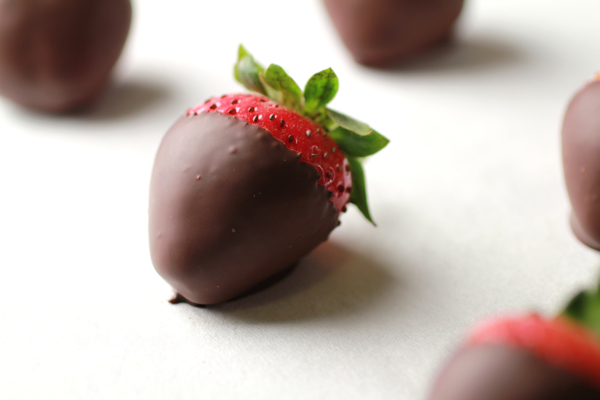 4. The Shape of Your Mug Matters
When making mug cakes, the wider and shorter the mug is, the more evenly it will bake in the microwave. Mugs that have straight sides do better with mug cakes, too. When choosing your mug, look at the difference between the mouth of the mug and the base of the mug. The bigger the difference is, the more uneven the baking will be in the microwave.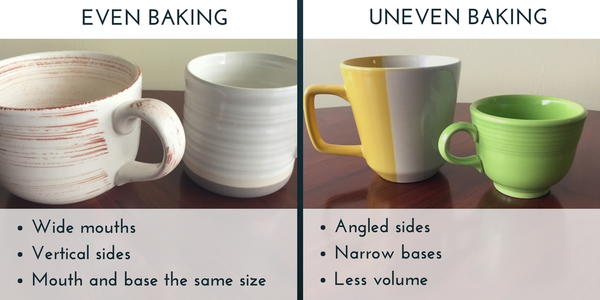 5. Practice Makes Perfect
6. Don't Expect the Same Results as Baking in the Oven
This is probably the most important thing to remember about making your microwave masterpieces. Of course, they will turn out a little bit differently than they would if you were making them traditionally. But that doesn't mean you've done something wrong! When it comes to mug cakes, the batter will not brown on the top, like it does in the oven. If you continue to microwave your mug cake until it does brown, you'll have one very dry mug cake.

It's also important to keep in mind that you cake will not rise as much as you think it will. It might also be a good idea to use self-rising flour instead of all-purpose. For more great tips and tricks for your mug cakes, check out these 6 Tips for Making the Best Ever Mug Cake!

Side Note: These tips and tricks are not meant to be used in a microwave oven. A regular microwave cooks with convection, whereas a microwave oven does not and therefore should probably not be used to making desserts like mug cakes.
What's your favorite dessert to make in the microwave?
Let us know in the comments!
Free recipes, giveaways, exclusive partner offers, and more straight to your inbox!
Tags / Related Topics
Your Recently Viewed Recipes
Images from other cooks


Something worth saving?
SAVE all your favorite recipes
ADD personal notes
QUICKLY reference your recipes