Fresh vs. Frozen Fruit: Which is Better?
By:
Danielle Zimmerman, editor for TheBestDessertRecipes.com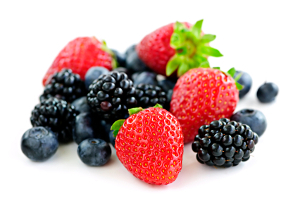 When it comes to making fruit dessert recipes or any recipes with fruit, one question that people always have is if they should use fresh fruit or frozen fruit. We here at TheBestDessertRecipes.com have created Fresh vs. Frozen Fruit Which is Better?, a guide that tells you the benefits and drawbacks of each kind of fruit, so that you can make an educated decision on what kind of produce to use in your homemade dessert.
Fresh vs. Frozen Fruit: Health Benefits
True or false: Fresh fruit is healthier than frozen fruit. If you answered "false," you're correct. Frozen fruit (and even some canned fruit) can be as healthy, if not a bit healthier, than fresh fruit. When fruit is picked off of its vine or stem, it is already full of nutrients.
However, fresh fruit is usually picked before it's ripe to minimize any damage that may occur during shipping and transportation to your local supermarket or grocery store. Therefore, it doesn't have as many nutrients in it as it would if it were picked when ripe. While being transported, the fruit is exposed to many conditions, including heat and light, that diminish some of the health benefits. Essentially, the fruit loses nutrients as it travels from the farm or the orchard to your kitchen. So, while picking fruit early helps avoid damage or degradation, fresh fruit from the grocery store isn't as full of nutrients as you'd think it would be.
In contrast, frozen fruit is picked at its peak of ripeness and then immediately blanched before being flash-frozen. Blanching the fruit basically involves boiling it in water to sterilize it. Fruits do lose a few nutrients during the blanching process, but still retain quite a lot. The only other time frozen fruit may lose nutrients is during the reheating process, but that can be easily avoided. Instead of boiling the fruit, simply microwave or steam it to ensure that it doesn't lose any health benefits. If you're looking to maximize the health benefits of using frozen fruit, make sure to choose frozen fruit that does not have any added sugar or syrup.
As you can see, frozen fruit has as many health benefits as fresh fruit.
Fresh vs. Frozen Fruit: Flavor
Because frozen fruit is picked at the peak of ripeness, it can be much more flavorful than fresh fruit. Fruit that ripens naturally on the vine or on a branch is going to taste a bit better than fruit that ripens on its own. However, there's something about the taste of fresh fruit that frozen fruit just can't match. Also, if you personally pick your own fresh fruit, you can pick it when it's at its ripest. So, they both have their positives and negatives in terms of taste but neither is that much better than the other.
Note: Just because frozen fruit and fresh fruit taste similar and you may feel that they are interchangeable doesn't mean that they necessarily are in all instances. If you're baking or cooking with them, be sure to read the recipe because baking or cooking processes change the textures of the fruits and may make them unsuitable for the dish.
Fresh vs. Frozen Fruit: "Shelf" Life
When trying to decide between eating fresh vs. frozen fruit, consider the time frame in which you're planning on eating it. Unless you use or freeze your fresh fruit right after you buy it, it will usually go bad within a few days (a week at the most). Frozen fruit is nice because, depending on the brand, it can stay in your freezer for up to six months. Buying and using frozen can also reduce waste because you don't have to eat it all right away or throw away the fruits that went bad.
Fresh vs. Frozen Fruit: Price and Availability
Price and availability are a major factor in deciding between fresh vs. frozen fruit. The price for each type of fruit really depends on two things: the place at which you purchase your fruit and the time of year. Let's start with fresh fruit. Depending on your location and preferences, fresh fruit purchased at farmers markets may be slightly more expensive or less expensive than they would be at a local supermarket. Prices for fresh fruit are heavily dependent on the time of year due to the fruits' availability. If a fruit is out of season locally, it may need to be shipped from a far away farm or orchard, causing the price of the fruit to increase.
On the other hand, seasons have little to no influence on the price of frozen fruit because it's always available. However, some grocery stores sell it at a higher price than others. Also, depending on the availability of certain fresh fruits, it may be more expensive to buy frozen rather than fresh (or vice versa). For instance, blueberries are in season during the summer, which means they're widely available at a reasonable price. Therefore, it is most likely cheaper to buy fresh blueberries in the summer than frozen. But, in the winter when they are not in season, frozen blueberries may be cheaper. For all frozen fruits, it's a good rule of thumb to buy in bulk so that you're getting buying them at the best possible price.
For more handy kitchen tips, check out our free eBook, The Ultimate Kitchen Guide: How-Tos, Cooking Tips & Essential Kitchen Knowledge.
Free recipes, giveaways, exclusive partner offers, and more straight to your inbox!
Tags / Related Topics
Your Recently Viewed Recipes
Images from other cooks


Something worth saving?
SAVE all your favorite recipes
ADD personal notes
QUICKLY reference your recipes