18 Easy Recipes for Dessert
Bonus: Get our newsletter & special offers for free. We will not share or sell your email address. View our Privacy Policy

How to Make Macarons: Secrets to Getting Macarons Just Right
I consider myself a brave baker (I bet you do, too). But there's one delicacy that I absolutely love and was afraid — until recently — to take on: macarons.

These small cookies have a big reputation for being notoriously difficult to master.

Just as a side question: why hasn't anyone invented a macaron maker? We have breadmakers. We have ice cream makers. Where's the macaron maker? Someone needs to get on that million-dollar idea.

Here's what I've learned from my experiments with these finicky cookies:
If One Method Doesn't Work, Try Another
Most bakers use either the French or the Italian method when baking macarons. One may work well for you at first, and then suddenly give you trouble. If this happens (and it probably will), try the other method.

By experimenting with both, you'll learn what works and what doesn't.

Just a refresher:
French Method: The dry ingredients are folded into the meringue.
Italian Method: An Italian meringue (sugar syrup added to egg whites) is incorporated into the dry ingredients.

Find a method that works for you, and tweak it from there (if necessary).
Let Your Egg Whites Age
Some bakers will tell you that there's no need to age your egg whites. I'm not one of them. I've never had success with unaged whites.

A few days before baking, separate your egg whites from the yolks (save them for something else), and store them in an airtight container in the refrigerator for at least 24 hours (or up to five days).

When you're ready to bake, take your egg whites out for a few hours to temper at room temperature.
Mix in a Cold Bowl
Fold — No Whisking, No Stirring
Once your egg whites are whipped and ready, turn off your electric mixer (yes, really). Egg whites are delicate and need to be treated as such.

Gently fold in your dry ingredients by sliding your spatula down the side of the bowl and under the egg whites, gently bringing them back to the top. Repeat this folding process until all the dry ingredients are fully incorporated.

Do not whisk and do not stir the batter.
Let the Batter Rest
Once you've piped out your cookies, let them rest for at least 20 minutes before baking. Some say you should let them rest for a few hours, but I've found that 20-30 minutes works perfectly well.

The rest period is essential because it dries out the caps of the macarons, which will help them rise when you bake them.
Use a Scale
When baking macarons, there isn't a whole lot of room for error. Accurate measurements will give you the best results.

Authentic recipes typically list the ingredients by weight. Follow it to the letter. Yes, even the egg whites.

Most bakers will tell you that cup measurements rarely give you the results you want when baking macarons.
Grind the Almond Flour and Powdered Sugar Together
Even if you purchased almond flour, don't skip this step. The goal is to make sure that the almond flour and powdered sugar are fully incorporated. Plus, the extra grinding will make sure there are no lumps in the batter.

Don't attempt to grind just the almond flour – you'll wind up with almond butter.
Tap to Release Air Bubbles, and Wait for the Skin
After you finish piping the macarons, tap the sides of the tray on your countertops to get rid of any air bubbles.

Now, let your macarons sit for at least 25 minutes until the tops look dry and develop a "skin." This skin is necessary for the "feet" of the cookie to develop properly.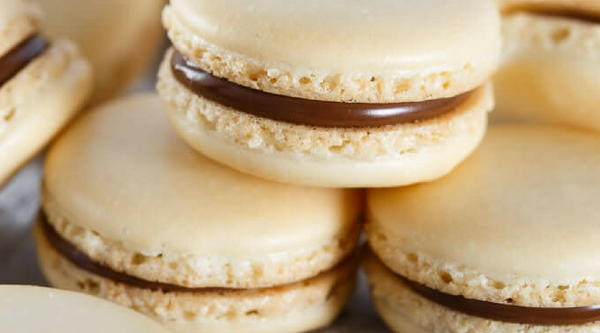 Use Gel Color
Swap out your liquid food coloring for gel coloring. Liquid can change the texture of the cookie and actually make your batter too runny. Gel food coloring incorporates easily into the batter without altering its consistency.

I also like to add a little extra color to make sure they're vibrant when they come out of the oven.
Bake On a Dry Day
You may be itching to bake your macarons, but if it's a rainy day, wait until the weather clears up. The humidity in the air will affect your batter and make it more difficult for your cookies to dry out.

I know it's hard to wait, but it's worth it to make sure your cookies come out just right.

If you absolutely can't wait, you can try using a dehumidifier to remove the moisture from the air.
What's your macaron making secret?
Share in the comments!
Free recipes, giveaways, exclusive partner offers, and more straight to your inbox!
Tags / Related Topics
Your Recently Viewed Recipes
Images from other cooks


Something worth saving?
SAVE all your favorite recipes
ADD personal notes
QUICKLY reference your recipes