Alcoholic Desserts: 45 Best Boozy Desserts with Alcohol
From boozy Christmas drinks to cupcakes and more, alcohol and dessert are just made to go together!
By:
Danielle Zimmerman, Editor, TheBestDessertRecipes.com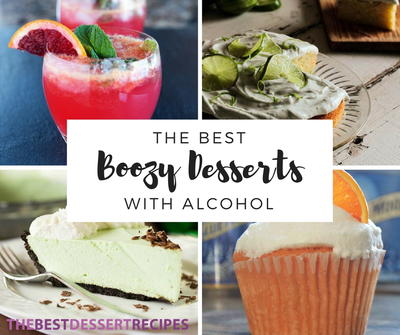 If you're looking to make a dessert recipe that no one will ever forget, make sure to check out these 45 Desserts with Alcohol. While alcoholic desserts may not sound that great at first, they actually make some of the best easy cake recipes, pies, and other dessert recipes out there.

There are times when all it takes to make a dessert go from tasty to out-of-this-world delicious is a little booze. Most of these recipes, even though they include alcohol as one of their ingredients, don't use the alcohol for its intended purpose.

Alcohol actually adds a lot of flavor to dessert recipes, just like cooking with wine does for dinner recipes. Chocolate gets more decadent, fruit desserts get sweeter, and the dessert as a whole just becomes more inviting and relaxing. The editors here at TheBestDessertRecipes.com have gathered all of the best desserts with alcohol for your viewing and baking pleasure. From alcoholic milkshakes to spiked cakes to easy cupcake recipes with alcohol and even a few liquor no-bake dessert recipes, these 45 Desserts with Alcohol have it all.

Watch the video below to learn how to make 4th of July Drizzy Berries! But warning: they're super boozy!
Table of Contents
No Bake Alcoholic Desserts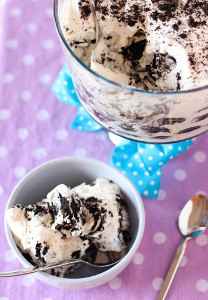 Because these recipes are no-bake dessert recipes, the alcohol never gets a chance to bake out. So they're pretty much for adults only. They'd make a perfect addition to your next girls' night or party.

Whether you're a fan of the delightfully green grasshopper pie, or you want to cool down with a boozy, alcohol-infused ice pop, there's a dessert here for you.

Because these desserts require absolutely no baking, they're super simple to throw together, and they're the perfect way to end a cocktail party with friends. You'll love serving these desserts with alcohol at your next cookout, block party, or other get-together!
Alcohol Infused Cake Recipes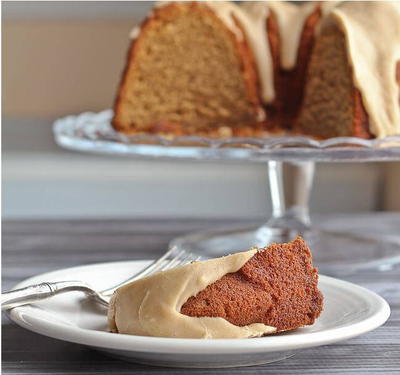 Cupcakes are the best desserts with alcohol because there are so many options on where to use it. Whether you add it to a ganache, the frosting, or even the actual cake part of a cupcake, alcohol just makes cupcakes taste delightful.

During the baking process, most of the alcohol in these desserts will go away, so these cakes will not get you drunk. But you will still get that complex flavor that makes boozy desserts with alcohol so delicious!
Other Boozy Baked Goods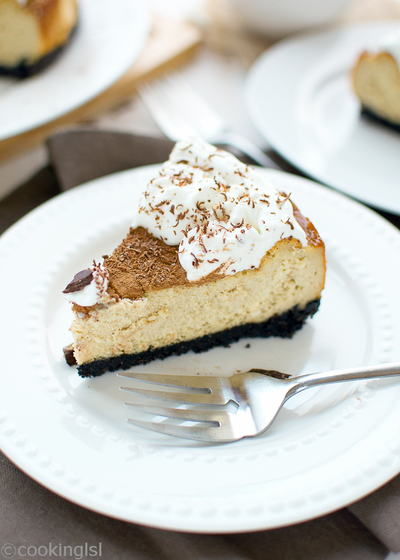 They're creamy, they're dreamy, and they're bursting with flavor! Drunken desserts are simply the best, and these desserts show you why. It's really amazing how much of a difference a little bit of booze can make in your baked goods.

Whether you're craving some cookies, dreaming about cheesecake, or in the mood for some boozy brownies, there's a dessert with alcohol here that will satisfy your cravings.

You can add alcohol to basically any dessert for an extra flavor kick. Check out this list of the best baked good recipes with alcohol. Good luck deciding on which one recipe is your favorite!
Tips for Baking with Alcohol
Baking boozy desserts is so much fun, and it's a great way to add an extra layer of flavor to your favorite baked goods. But there are a few things you should know before you break out the Bourbon, Brandy, and Bailey's!

1. There will still be a tiny bit of alcohol left. The amount of alcohol that remains in your desserts depends on how long you cook or bake it, but most boozy desserts will not actually get you drunk. No matter how long you bake something, there's a good chance that there's still a little bit of alcohol left behind.
2. Booze is a kitchen lifesaver. By far, the best way to use wine and spirits in desserts is as a substitute for extracts. Bourbon makes a great substitute for vanilla extract. You could add a splash of rum if you want a flavor that's a little more tropical. And a splash of vodka is a great way to enhance the flavors that are already in your cupcakes, cookies, and scones.
3. Don't overdo it! Using wine and spirits in your baked goods is all about moderation. Just a little bit too much, and the alcohol is all you will taste. If you are modifying a recipe to be your own boozy creation, start out with just a little bit of booze and add more until you get the desired taste.
Cocktails and Dessert Drinks with Alcohol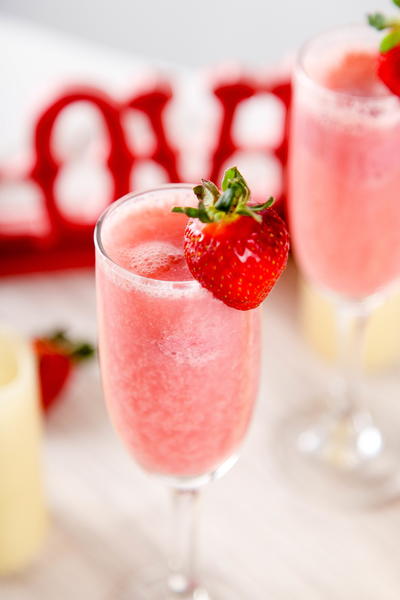 We're all used to seeing alcohol in dessert drinks. Here's a list of a few drink recipes where the alcohol flavors the dessert so well, you would never know it was alcoholic.

Whether you're throwing a big fancy party with all of your friends, celebrating the end of a long week with a sweet, spiked drink, or just looking for something to drink as you ring in the New Year, these dessert drinks with alcohol are the best of the best.

These crazy cocktails, boozy beverages, and delicious drinks are the perfect beverages for almost any occasion any night of the year. They're simple, delicious, and a great way to satisfy that sweet tooth in style.
Summer Dessert Drinks with Alcohol
After a long day of work and running errands, cool off this summer by making a batch of these alcoholic drink recipes. These full-flavored beverages are simply delightful, and will be the perfect beverages to serve at your next outdoor party. Whether you want something festive to serve while watching the fireworks on the Fourth of July or just want a delightful beverage to sip while sitting on your back porch, these beverages for adults won't disappoint! To make the evening even more special, consider splurging on new barware. Make entertaining a breeze, too, by simply mixing a pitcher of your favorite beverage. Just pour and serve, and you're set!
Winter Dessert Drinks with Alcohol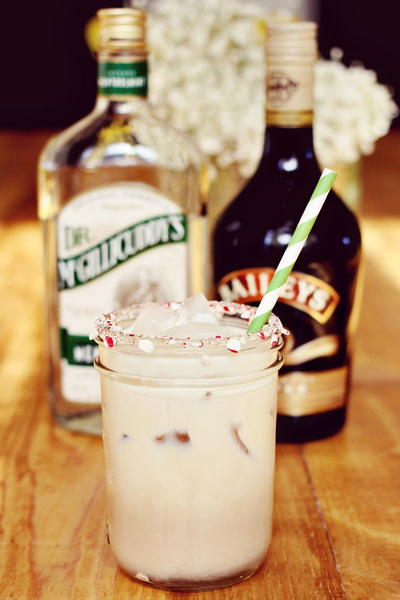 Summer dessert drinks might get all the press, but you can't forget about delicious dessert drinks for winter! After a long day of shopping and making last-minute preparations for the holidays, unwind with a glass of these delicious boozy dessert drinks. These recipes are also perfect for any celebration on your calendar during the holiday season, too. Whether you're warming up with a glass of mulled wine or relaxing with a specialty martini, these delightful recipes for winter are sure to hit the spot. Although there's nothing wrong with sipping a glass of wine or a beer at a holiday party, making a specialty drink just for the occasion will make your event so much more special. 
Tips for Serving Boozy Dessert Drinks
Backyard barbecues, holiday soirees, and casual get-togethers with friends are all perfect occasions for whipping up some delightful dessert beverages with alcohol. While a gathering with family and friends is always special, you can make the event even more memorable by adding a few unique details to every batch of beverages. Keep these tips in mind when serving your favorite dessert drinks.

1. Choose unique stemware: There's nothing wrong with using an everyday glass to serve beverages to family and friends. However, if you want to make the event more interesting, then consider serving your cold drinks in wine glasses or martini glasses. Warm or hot beverages should definitely be served in anything with a handle, including your favorite coffee mugs. Scour yard sales and thrift stores for new stemware, and make sure your set is deliberately mismatched for a truly unique look!

2. Add garnish to any beverage: Don't just pour a special martini in a glass! Garnish, including slices of fresh fruit for a summertime beverage or a stick of cinnamon for a winter dessert drink, can make your beverage look even more special. Other options include serving small cookies with frothy drinks, or sprigs of mint with any chocolate-based drink.

3. Make your ice cubes look even better: When planning a party, ice cubes are often overlooked until the last minute. To make your cold beverages shine, consider making ice cubes with sprinkles inside. Guests will love the added color!

4. Show off your beverages: Are you making a pitcher of your favorite beverage? Let the bright colors shine in a big way by serving the beverage in a glass pitcher. 

5. Set aside non-alcoholic drinks: You might be ready to make a boozy milkshake, but you can't forget about the non-alcoholic options for your next get-together, either! From homemade sodas to smoothies, there are plenty of alcohol-free options to offer that are just as special as the alcohol drinks already on the menu.
What is your favorite boozy dessert or dessert drink?
Let us know in the comments!
Free recipes, giveaways, exclusive partner offers, and more straight to your inbox!
Tags / Related Topics
Your Recently Viewed Recipes

Something worth saving?
SAVE all your favorite recipes
ADD personal notes
QUICKLY reference your recipes